I hope none of my neighbors read this before Christmas, or at least have the decency to act surprised at their gift. I love to give a breakfast casserole to my neighbors, frozen so that they can bake it when it's convenient for them.
Please note, I live in the country and have very few neighbors.  You might want to give this to a friend, instead, since it adds up to about $15, including the casserole ingredients. The casseroles themselves are still a great gift, presented in a foil pan instead.
This year, I discovered the fun of etching glass and stepped up my gift a notch or two.
Etching is super simple.  You'll need:
Glass 9×13 pan
Etching cream
Stencil
Simply cut a stencil with your diecut machine, or you can buy them at a craft store, usually with the etching or painting supplies.  Clean your glass surface with alcohol and apply the stencil where you'd like it. Be sure the edges of the stencil are adhered well to the glass, so etching cream doesn't get under there. By the way, I forgot to take photos of the 9×13 project…these photos are from some glass mugs I etched. The process is the same.
Spread the etching cream on in a thick layer and let it sit for five minutes, then wash off with water.
Peel the stencil away, and marvel at your handiwork.
I used Armour Etch, which says it will not etch Pyrex, but mine worked fine.  I did apply quite a thick layer of cream, though.
Now, what to put inside it?  Here are links to two of my favorites, a sweet and a savory, that any neighbor (or your very own family) would be thrilled to have on hand for a holiday breakfast. Both recipes are quick to assemble, then pop them in the freezer until solid.  Attach cooking directions with a festive ribbon and your gift tag.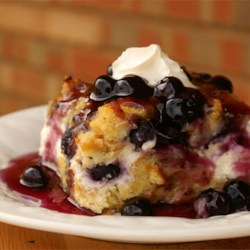 Blueberry Stuffed French Toast from Allrecipes.com
Farmer's Casserole from Food.com
This also makes a great wedding or any occasion gift, (given empty) because they'll never lose their pan at a potluck again!