I'm finally starting my own book club, now that we've been "settled" for over a year in our forever house. We're meeting tonight to pick out the next few months worth of books to discuss, but in the meantime, I read a few really worthwhile books this summer…and, okay, some not-so-worthwhile, but still entertaining (I'm looking at you, Game of Thrones series).  Here are a few worth ignoring the housework for, in my opinion:
Close Your Eyes, Hold Hands by Chris Bohjalian
Goodreads.com blurb: Close Your Eyes, Hold Hands is the story of Emily Shepard, a homeless girl living in an igloo made of garbage bags in Burlington. Nearly a year ago, a power plant in the Northeast Kingdom of Vermont had a meltdown, and both of Emily's parents were killed. Devastatingly, her father was in charge of the plant, and the meltdown may have been his fault—was he drunk when it happened? Thousands of people are forced to leave their homes in the Kingdom; rivers and forests are destroyed; and Emily feels certain that as the daughter of the most hated man in America, she is in danger. So instead of following the social workers and her classmates after the meltdown, Emily takes off on her own for Burlington, where she survives by stealing, sleeping on the floor of a drug dealer's house, inventing a new identity for herself, and befriending a young homeless kid named Cameron. But Emily can't outrun her past, can't escape her grief, can't hide forever-and so she comes up with the only plan that she can.
I adore every Bohjalian book I've read (and I'm pretty sure that's all of them).  The only disappointment I felt about this one was that it ended.  I kept sitting and staring at the last page while mulling it over until the hubs thought I'd dozed off.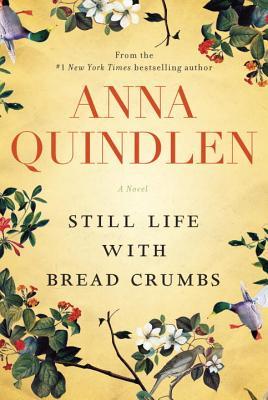 Still Life with Bread Crumbs by Anna Quindlen
Still Life with Bread Crumbs begins with an imagined gunshot and ends with a new tin roof. Between the two is a wry and knowing portrait of Rebecca Winter, a photographer whose work made her an unlikely heroine for many women. Her career is now descendent, her bank balance shaky, and she has fled the city for the middle of nowhere. There she discovers, in a tree stand with a roofer named Jim Bates, that what she sees through a camera lens is not all there is to life.
Brilliantly written, powerfully observed, Still Life with Bread Crumbs is a deeply moving and often very funny story of unexpected love, and a stunningly crafted journey into the life of a woman, her heart, her mind, her days, as she discovers that life is a story with many levels, a story that is longer and more exciting than she ever imagined.
Anna Quindlen always weaves a good tale, and this is a cozy love story, rather than a mushy, gushy one. I enjoyed it, didn't have to think too much about it, and would recommend it for a rainy weekend read.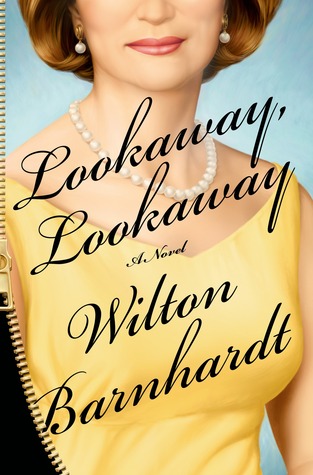 Lookaway, Lookaway by Wilton Barnhardt
Jerene Jarvis Johnston and her husband Duke are exemplars of Charlotte, North Carolina's high society, where old Southern money—and older Southern secrets—meet the new wealth of bankers, boom-era speculators, and carpetbagging social climbers. Steely and implacable, Jerene presides over her family's legacy of paintings at the Mint Museum; Duke, the one-time college golden boy and descendant of a Confederate general, whose promising political career was mysteriously short-circuited, has settled into a comfortable semi-senescence as a Civil War re-enactor.  Jerene's brother Gaston is an infamously dissolute bestselling historical novelist who has never managed to begin his long-dreamed-of literary masterpiece, while their sister Dillard is a prisoner of unfortunate life decisions that have made her a near-recluse.
As the four Johnston children wander perpetually toward scandal and mishap. Annie, the smart but matrimonially reckless real estate maven; Bo, a minister at war with his congregation; Joshua, prone to a series of gay misadventures, and Jerilyn, damaged but dutiful to her expected role as debutante and eventual society bride. Jerene must prove tireless in preserving the family's legacy, Duke's fragile honor, and what's left of the dwindling family fortune. She will stop at nothing to keep what she has—but is it too much to ask for one ounce of cooperation from her heedless family?
In Lookaway, Lookaway, Wilton Barnhardt has written a headlong, hilarious narrative of a family coming apart, a society changing beyond recognition, and an unforgettable woman striving to pull it all together.
I just finished this, and I'm still deciding if I really liked it or not. I had a hard time getting focused on it, and it took over a week to read (and it's not a very long book…about 350 pages). I laughed aloud a few times and enjoyed the characters…each was given their own section of the book, so the changing points of view were interesting.
And then I read some that were just so-so…the Game of Thrones after the second book, the latest Outlander book (Written in My Heart's Own Blood) by Diana Gabaldon, and Wedding Night by Sophie Kinsella (who wrote the Shopaholic series).
I also (happily) killed a few brain cells reading for the pure escapism of it….Takedown 20 and Top Secret 21 by Janet Evanovich, Beautiful Day by Elin Hilderbrand, Power Play by Catherine Coulter, and the final book of the Deborah Harkness trilogy, Book of Life…it's about witches, vampires, and daemons, kind of Twilight for grownups.
Anyway, that's how I spent my summer vacation…and I didn't even starve my family or make them run around in dirty clothes. Well, not often, that is.