I'm really not ALL about pumpkins, despite evidence to the contrary on this blog!  Apples say "Fall" to me, as well…they just don't scream it like pumpkins do.
An apple-themed menu seemed perfect for my book club meeting last week.  Here's what we enjoyed:
My favorite apple-shaped Sharp Cheddar and Ranch Cheeseball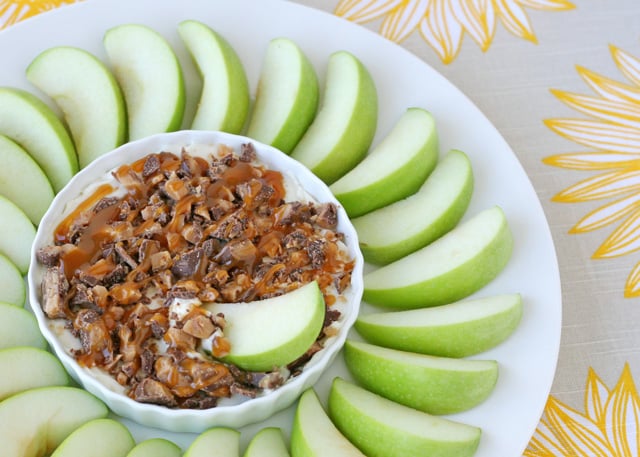 This is not my photo of Toffee-Caramel Apple Dip, but it's made the same way as this recipe from Glorious Treats. It literally takes five minutes, even including cutting up the apples!  All you do is layer softened cream cheese, then Heath bits (from the baking aisle), and drizzled caramel sauce (Trader Joe's Salted Caramel sauce is divine).
Then, I made this:
It's a delicious apple pie baked in a paper bag.  Really. Last fall, we ventured down to an orchard, The Elegant Farmer, in Mukwanago, WI.  They sell several different versions of the paper bag pies there, still in the bag they baked them in. We bought one, and I'm pretty sure the topping of theirs has crack in it.  It was irresistible, I tell you.  I found a recipe on line for that exact pie, but it sounded like way too much work to make two pie crusts using their special recipe, so I modified one from King Arthur Flour instead.  It may not be quite as good, but, then, I had no crack to put on top of mine.
I'm kidding, of course…I just thought the buttery streusel topping sounded wonderful, and it was.  When you get your pie assembled, slide it into a large paper bag, or make a bag from parchment paper. That's what I did, because I am environmentally conscious and take my own bags to the grocery store. Plus, I had used the two paper bags I did have earlier in the week to recycle my newspapers and such.
Paper Bag Apple Pie
(Adapted from King Arthur Flour)
Crust for 9" pie
Filling
3 1/2 to 4 pounds apples, peeled, cored, and sliced; enough to make 8 cups sliced apples…I used 7 medium-sized Granny Smiths
¾ cup brown sugar
1 teaspoon ground cinnamon
¼ teaspoon salt
½ teaspoon ground nutmeg
2 tablespoons lemon juice
2 tablespoons boiled cider or apple juice concentrate, optional but tasty
3 tablespoons all-purpose flour
Streusel topping
1/2 cup granulated sugar
1/2 cup all-purpose flour
1/2 cup (8 tablespoons) cold butter, cut into pats
Directions
1) To make the filling: Put the sliced apples in a big microwave-safe bowl, and stir in the brown sugar, cinnamon, salt, nutmeg, lemon juice, flour, and boiled cider.
2) Microwave the filling, uncovered, for 5 minutes. This softens the apples just a bit, and gets their juices flowing. Skip this step if you like; it's not critical, though I think it helps.
3) Preheat the oven to 425°F.
4) Lightly grease a 9″ pie pan, preferably one that's at least 1 1/2″ deep, and lay the crust in the pan, settling it into place gently. Don't tug at it or stretch it; this could cause it to shrink as it bakes.
5) Spoon the filling into the crust.
6) To make the topping: Combine the sugar, flour, and butter, working them together until crumbly. Don't over-mix; you don't want the streusel to turn into a solid mass.I find the easiest way to make the streusel is to pulse this in the food processor.
7) Sprinkle the streusel atop the filling.
14) Place the pie in a brown paper grocery bag. If you're nervous about baking in a paper bag, use parchment paper instead, making a bag from two sheets and stapling the sides. Secure the bag closed; staples or uncoated paper clips work well for a paper bag.
15) Bake the pie for 1 hour.
16) Remove the pie from the oven, and carefully open it, avoiding any steam. Remove the pie, and set it on a rack to cool for at least 30 minutes before slicing.
Yield: one 9″ pie, 8 to 10 servings.
 Click here for a printable version
As you can see, this is a messy, messy pie, so baking it inside the parchment bag saves your oven from a ginormous mess.  I usually put a cookie sheet on the rack below in the oven, just to be safe.  The parchment has never leaked, though, so it's all good.
This pie may not be a prize-winner for looks, but it certainly is for taste…and once you cut it, no one will ever know what it looked like in the pan!